News
All roads lead to Rome - Past, present and future
October 2017
---
The exclusive Parioli district was the location for the 34th Annual Conference in the magnificent city of Rome, Italy. Held at the five star Parco dei Principi Grand Hotel & Spa on 18 - 22 October 2017, and hosted by Rome member firm SITAX - Studio Tributario Internazionale, the conference saw record numbers of attendees congregate for the most important event of the network's year.
We were delighted to introduce some new initiatives at this year's conference, including a brand new event app and conference brochure, all with the aim of making access to information easier and more efficient for participants, ensuring their conference experience was more enjoyable. It is greatly pleasing to have received such positive feedback in respect of these initiatives from those who attended. The conference app was in particular noted as a fantastic advancement!
Setting your business apart
The delegate programme opened with welcome addresses from our chairman Bill Rucci and from Stephen Hamlet - attending his first global conference as Russell Bedford International's CEO. They were followed by a short presentation by host firm partners Ferdinando De Feo and Fabrizio Di Gravio.
Creating new business opportunities was a dominant theme throughout the conference, and our first guest speaker, consultant Martin Bissett, set the scene with a presentation on 'The Secrets of Superior Accounting Firms'. Martin discussed the approaches taken by some of the most successful firms and how your practice can learn from them and implement similar strategies. Martin followed up his session with a workshop on 'Building your Pipeline', including tips on how to find the right clients for your business.
With three workshops on very different topics, delegates had plenty of choice. A session led by Sylvie Soulier, member of IESBA (International Ethics Standards Board for Accountants), and Russell Bedford's AQC Consultant, Jim Sylph, considered 'IESBA ethics code changes and their application'. Additionally, a discussion group on 'Hot topics for tax practices' was led by Domingo Alonso and Stephanie Moura of our Miami member firm.
Day one drew to a close with presentations from new member firms from Dubai (UAE), Sydney (Australia), Malaga (Spain), São Paulo (Brazil), Madrid (Spain), Moscow (Russia) and Panama; a credit to Russell Bedford's recent recruitment efforts.
New initiatives and honing your skills
Guest speaker Robin Clough of Data Consulting opened day two with his topical session on 'Big Data and Data Analytics'. Robin discussed how accountancy firms can leverage new technology to gain greater insights into data and develop a competitive advantage, helping you to gain and retain clients. Later in his workshop 'Data Analytics: a business opportunity', Robin explored the topic in greater depth, looking at practical ways to create new business opportunities through technology.
In his session, 'Engage your clients through the written word', Scott Keyser (The Writing Guy) imparted his knowledge, developed throughout his career as a published author and bid consultant, on how to write with power and impact. Scott followed his presentation with a practical workshop on 'Nailing your value proposition and elevator pitch', which allowed participants to draft an elevator pitch for their team or firm - a vital weapon in the war for client attention.
Klaus-Peter Hillebrand and Daniela Jochmann-Markus of our Berlin member firm led a workshop entitled 'Staff exchange and secondments: why and how?', and Jim Sylph gave an update on our global Audit Quality Control programme, ensuring members appreciate how important it is for the network to recruit top quality firms and to ensure quality is maintained year on year.
Managing partner at MERC Partners and global chair at IIC Partners, Ruth Curran, delivered a session on 'Leading professional services firms', where she discussed diversity in the workplace, the issue of gender balance at board level and shared her thoughts on how your firm can become a corporate champion for diversity.
Branding expert Roddy Rowan (Genesis) concluded day two with one of the high-points of the conference: a presentation and debate on the future development of the Russell Bedford brand. In this, he aimed to develop a shared understanding of the network's brand strategy, discuss some of the key issues, and the potential next steps.
Future-proofing your business
The final day of the conference commenced with another highly relevant presentation - delivered by Giorgio Corno of our Milan firm - on 'Data protection reform and the impact on businesses'.
There then followed another of the conference's highlights: a panel discussion on the future of accounting firms, chaired by our CEO Stephen Hamlet. The panel, drawn from members in Australia, Canada, Ireland and Romania, debated the key drivers of change, the likely impacts on the profession, and how firms must adapt in order to remain successful. This was highly topical and created much interaction and discussion from members around the world.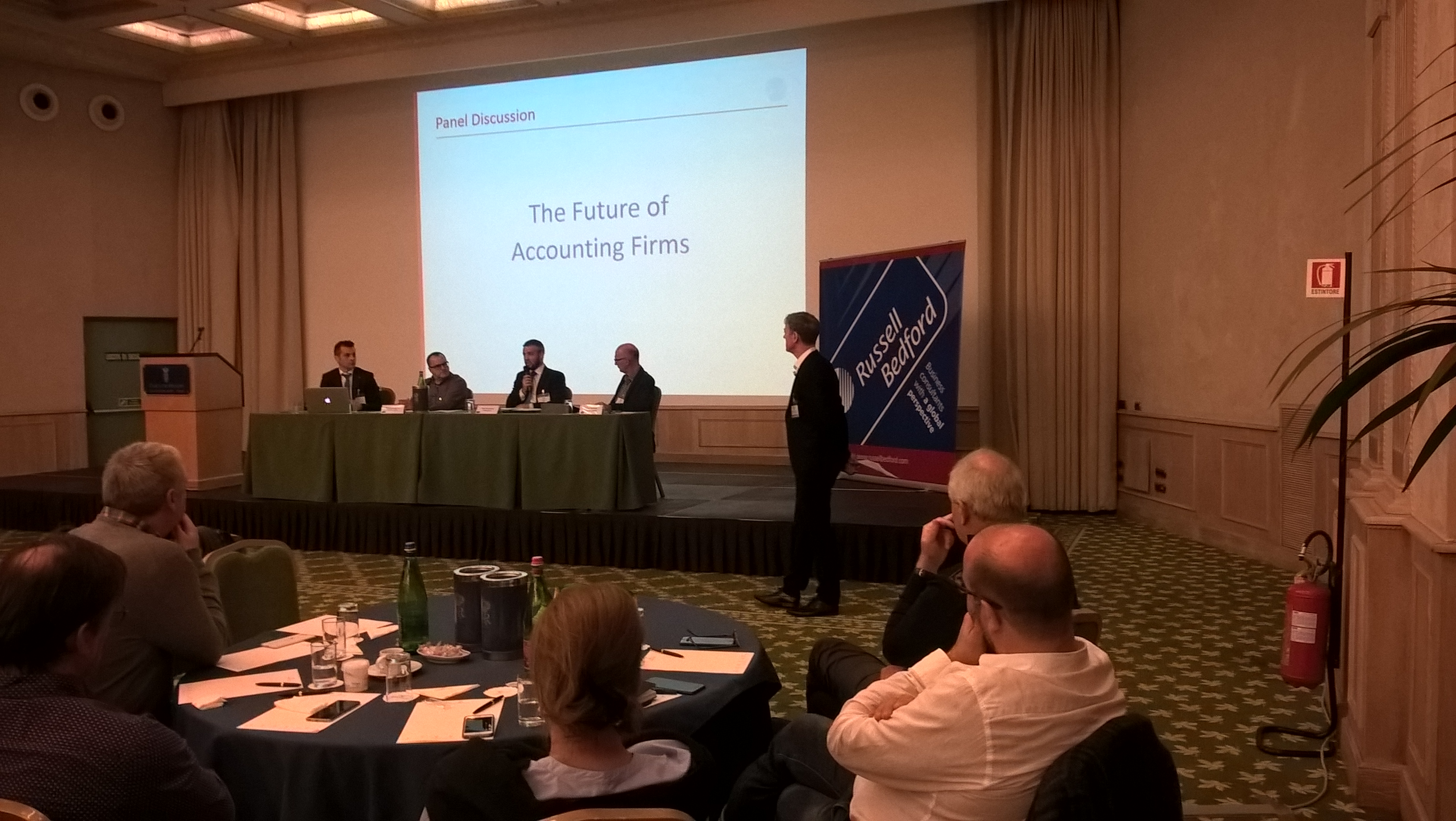 The delegate programme concluded with a feedback session, the formal AGM and finally, an introduction to New York - venue for the 2018 Annual Conference - by Richard Koenigsberg of next year's host firm, SKP.
Ancient Rome: a backdrop for entertainment and networking
Conference participants were treated to a social itinerary that included some of the best that Rome has to offer. Guests were cordially welcomed to this year's conference with a dinner at the conference hotel. Thursday evening's entertainment included a tour of the Musei Capitolini and an 'Ancient Rome' themed dinner on the Terrazza Caffarelli. The conference concluded in style with an unforgettable black tie Gala Dinner at the magnificent Villa Aurelia - accompanied by superb music and a fireworks display. This finale certainly raised the bar for future gala dinners! 
An enjoyable programme was arranged for non-delegate attendees, including guided tours of the Colosseum, Imperial Fora, the Vatican Museums and Saint Peter's Basilica.
Stephen Hamlet, reflecting on his first Russell Bedford global conference, commented "This year's conference in Rome was one of the best I've experienced in several years of international meetings. With record numbers of attendees, it reaffirmed my belief that our network contains enthusiastic, dedicated and quality members who, as well as being able to have a lot of fun, actually want to do business together, learn from one another, and are constantly looking to create new business opportunities by using the network. In an age of increased talk about Artificial Intelligence and digitalisation, the 'people element' of our profession is very much alive. Building relations, interacting and getting to know one another continues to be extremely vital".
A huge thank you must be extended to Ferdinando De Feo and all of his team at SITAX, particularly Virginia and Flaminia, who orchestrated much of the planning for both the delegate and non-delegate schedule, and to whom we are indebted for all of their help and support throughout.