News
Going further together to a better future: Russell Bedford Annual Global Conference 2021
November 2021
---
Opening the 38th Russell Bedford Annual Global Conference, Russell Bedford's Chair, Bruce Saward, welcomed almost 300 members to this year's conference, extending a special welcome to colleagues from new member firms attending their first AGM from France, Canada, Bolivia, Ghana, USA, Switzerland, Senegal, Malta, Nepal, Nicaragua, South Korea and Italy.
Bruce delivered an introduction to Russell Bedford's new Strategic Positioning entitled, Going further together to a better future, which has been an ongoing focus of the network throughout 2021. Bruce highlighted his belief that, although growth will be the natural outcome of fulfilling the network's vision, success relies on a collaborative full network approach saying: "It is important that we are all aligned to our core values and share responsibilities and commitments."
Unlocking your firm's potential through diversity and inclusion was the topic of the first session of the conference and the network had the pleasure of welcoming Communication and Culture Change Specialist, Shola Kaye. Revealing some incredibly powerful and practical strategies for driving engagement within organisations, Shola made the case for improved diversity in the workplace. She expressed how important it is to lead with empathy, ensuring that equity and inclusion are top priority for creating a culture where everyone feels like they belong throughout the organisation and not just at the hiring stage.
The benefits are hard to contest as Shola shared that a business's reputation can hang on a poor or well executed D&I strategy, with statistics suggesting that engaged workers outperform others by 21%. She left us with a thought-provoking description of diversity as the art of thinking independently together.
A conversation between partner at our Malta member firm, John Debattista, and Jonathan Labrey (Value Reporting Foundation) was up next, where the two discussed prospects for future global extended external reporting standards.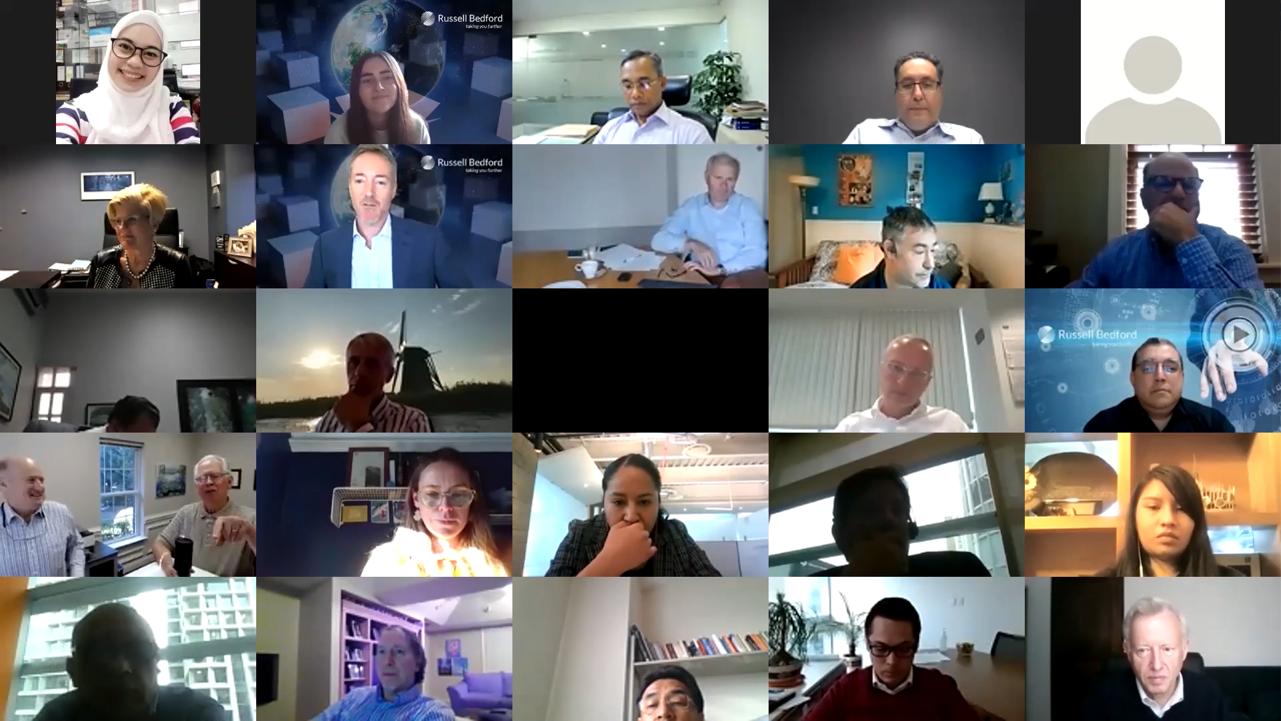 Mouhammad Saleh, partner at Russell Bedford's Lebanon member firm, led the final session of the day, a discussion forum on the audit of the future. Mouhammad was joined by panellists Vanessa Albuquerque (Belo Horizonte), Mariam Bermúdez (San José), Gisela Coimbra (Rio de Janeiro) and Mahmoud Saghir (Beirut) who shared their views on the topic.
Day two commenced with a report from Russell Bedford's CEO, Stephen Hamlet, who revealed some of the network's impressive successes over the past 12 months, including a dramatic 18% increase in revenue, while commending Russell Bedford members for their continued assistance to businesses, along with their impressive performance and growth, during these challenging times.
Philip Baker, QC, OBE (Field Court Tax Chambers, London) joined as the conference's first speaker of the day to share his personal view of the changing policy landscape in an entertaining discussion on global tax trends in 2021.
Recently appointed to the Russell Bedford Board of Directors, Deanna Salo (Chicago), led the next session, a panel discussion on best practice for CPAs advising Families and Family Businesses. Deanna was joined by panellists George Grignano (Toronto), Scott Sagan (Boston) and Sue Redmond (Manchester).
Closing day two, CEO, Stephen Hamlet, hosted a fun International Finance Quiz to help raise money for charity by answering accounting, audit and tax trivia questions.
Day three of the conference commenced with Stephen's opening remarks, reminding members of the important developments in the network, which was promptly followed by an Audit Quality Management update by Russell Bedford's AQC consultant Jim Sylph.
A presentation of Russell Bedford's Strategic Positioning 2021 followed, which included commentary from each director of the global board on an aspect of the network's future strategy and provided an opportunity for members to ask questions and discuss.
The Annual General Meeting 2021, was then chaired by Bruce Saward. During the AGM Bruce bid farewell to James Ngai (Hong Kong) who steps down as board member for APAC, thanking him for his fantastic energy and great contribution, not least by facilitating the recruitment of many great firms in the APAC region during his term.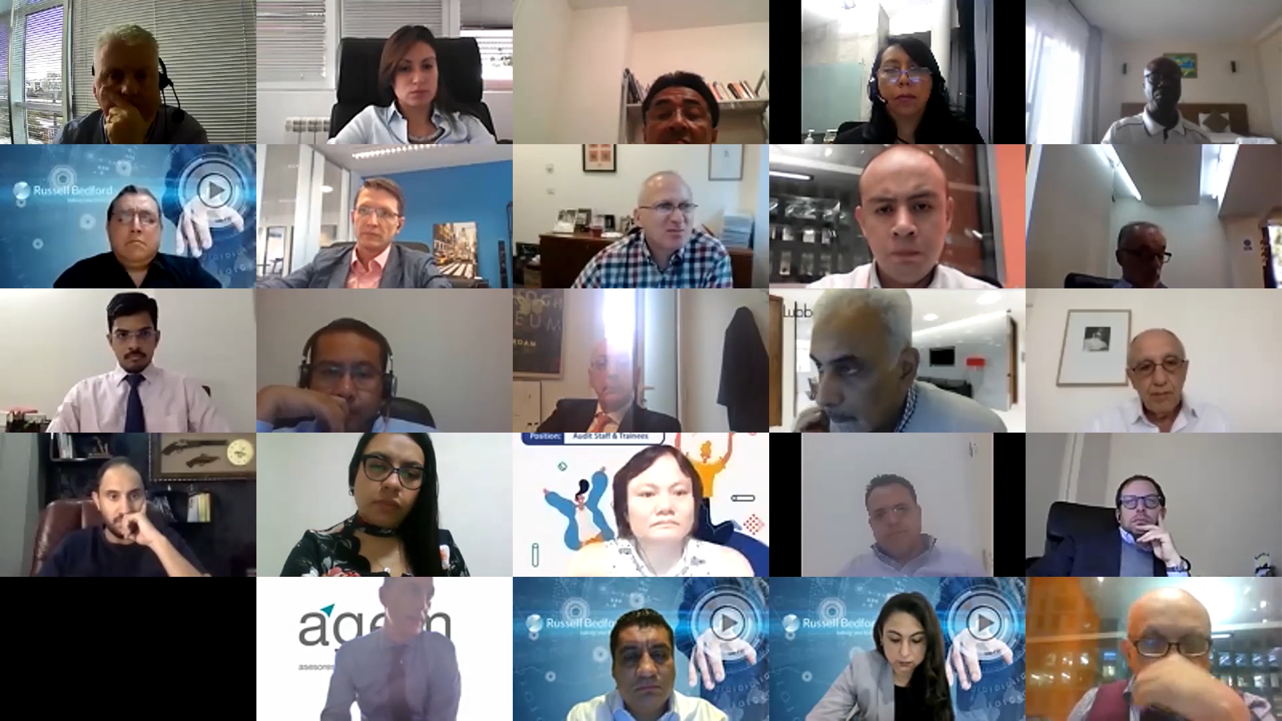 Speaking about his time on the board, James said: "It has been my honour to serve as a member of the Russell Bedford Board of Directors for the past nine years. Travelling thousands of miles around the globe, attending our many incredible events, I feel so fortunate that technology has enabled us to maintain the relationships that have been years in the making, while we have navigated the challenges presented by the pandemic."
Echoing the conference theme, James added: "Equipped with a well-considered strategy, I see the beginning of a new era of Russell Bedford in which we will go further together to a better future."
Bruce welcomed new board members including Andrew Lim (Singapore), who joins as a director for the APAC region and Deanna Salo, who joined as a director for the North American region.
The conference concluded with an introduction to the location of next year's Annual Global Conference, which will be held in Vienna, Austria in October 2022.
Speaking about the conference, CEO, Stephen Hamlet, said: "2021 has been a year of considerable contemplation for the network. The strategic review process has been thorough and all-encompassing, leaving no stone unturned, while taking into consideration the views and experience of experts amongst us at Russell Bedford, who we are so fortunate to call our members, our allies and our friends."
He added: "I feel confident that the strategy we have shaped will take us to new heights of success. Armed with this new strategic positioning, we are ready to move forward in developing and expanding our global network, while ensuring that we gain the right firms who are in alignment with the network's vision and mission."
Stephen concluded: "This year's conference has again provided a wonderful opportunity to regroup and learn together. It's an exciting time for Russell Bedford International and I am full of optimism and anticipation for the future opportunities that lie ahead for our awe-inspiring network."