News
International Tax and EMEA Conference 2019: Nice, France
May 2019
---
The Russell Bedford International Tax and EMEA Conference 2019 took place at the magnificent Aston La Scala Hotel on 17-18 May in the heart of Nice, France.
The conference, which achieved record breaking numbers of attendance with more than 100 delegates, comprised topical sessions and workshops led by several speakers from the profession, and included networking and social activities for our member firms from around the world.
After a welcome and global update from Russell Bedford CEO, Stephen Hamlet, and a regional presentation from EMEA Director, Klaus-Peter Hillebrand, the conference commenced with a session on the tax challenges of the digital economy by Paul Gisby, Senior Manager at Accountancy Europe.
The future of tax havens and the tax advantages of Monaco followed, delivered by Xavier de Sarrau, General Partner at Gordon S. Blair Law firm.
Aynsley Damery, CEO and founder of Clarity, sponsors of this year's conference, shared advice on how to become a tech-enabled advisory firm, drawing on his vast expertise in the field.
Russell Bedford's most recent new member firms from Tirana (Albania), Groningen (Netherlands) and Chicago (United States) all introduced their firms and delivered presentations explaining their history and plans for the future as a result of their new membership.
Jeremy Mindell, Director of Primondell, started the afternoon programme with a session rounding up ´Current international tax issues´. Hari Hundle and John Pantekekidis from TwinFocus Capital followed with a discussion on ´Representing the global UHNW Family Office in the 21st Century – challenges and opportunities ahead'.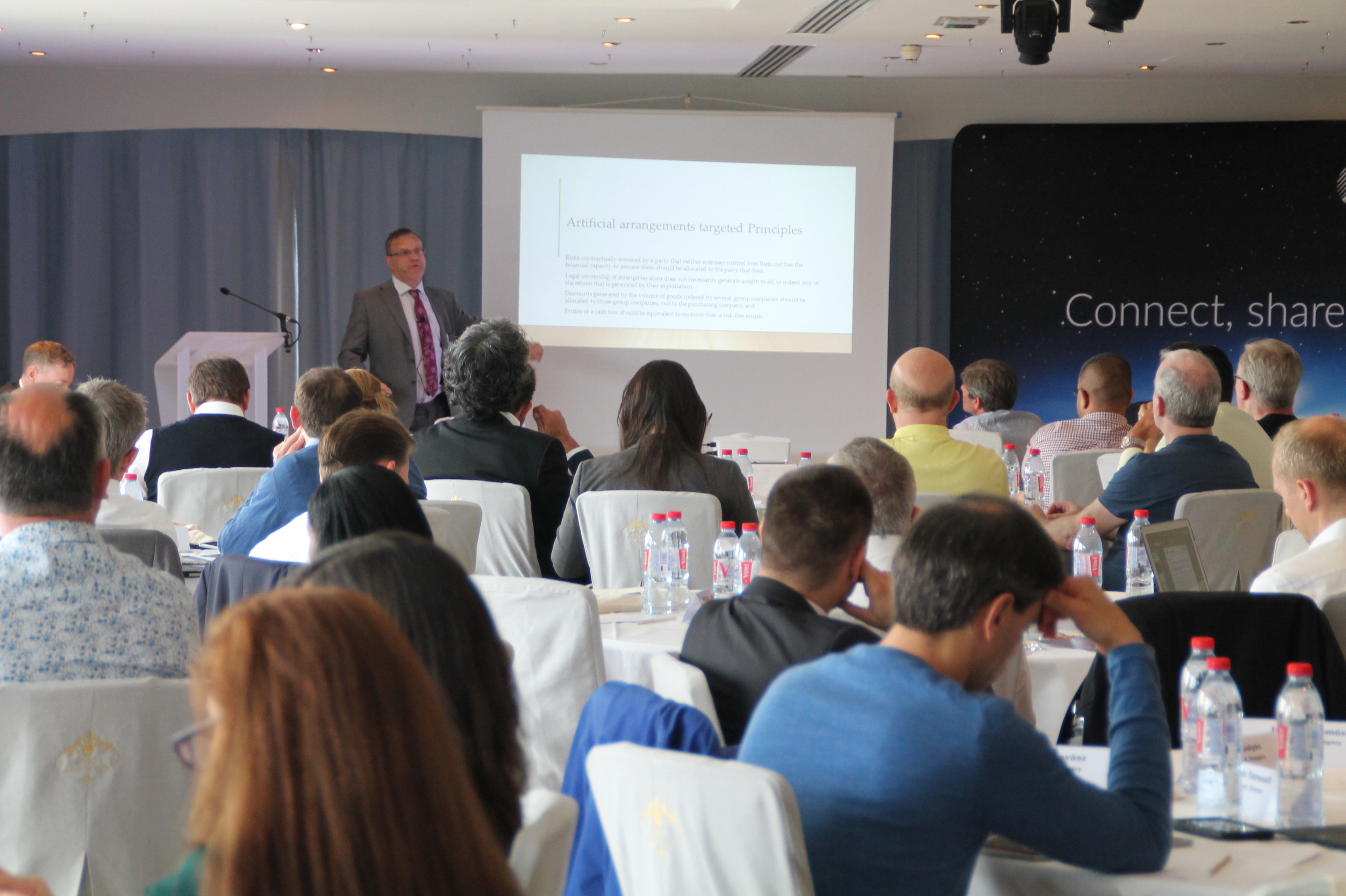 The final session of the day was led by Laëtitia Villain and Jean-François Chronowski from Pyramide Conseils, Russell Bedford's Lyon member. Laëtitia and Jean-François discussed taxes in France and implications for property investment by non-residents.
Friday's social programme offered guests a real flavour of the city of Nice and its charm, providing an opportunity for members to reconnect with colleagues in a more relaxed setting, with drinks and dinner at an atmospheric beachside French restaurant.
Saturday morning commenced with an entertaining and insightful session: 'Switch relationships to revenue, referrals and results' by Itzik Amiel, a global leading authority on networking, personal branding and relationship capital. Itzik followed his opening session with a workshop: 'Become the Authority: stand out, expand your reach and grow your practice.'
Other workshops included ´DAC6: Implementing the new EU tax disclosure rules´, delivered by Stephan Strothenke and Victoria Willcox-Heidner from Russell Bedford's member firm in Halle Westfalen, Germany, and Jose Luis Gomez, from Madrid member firm, AG Consultores.
After a coffee break, Paul Thompson, director at EFAA, led a workshop on ´SME audits – challenges and insights´ while Steve Horn from Williams Benator & Libby, Russell Bedford's Atlanta, USA member and Jas Dhillon from London member firm, Lubbock Fine, delivered a workshop in which delegates participated in an international tax case study on consumption taxes.
After lunch, there were some further workshop sessions to choose from, including 'Negotiation skills: do you have what it takes?' by Angus Farr, from Training Counts and 'US & Canadian tax changes impacting global tax payers´ by Domingo Alonso, from Miami member firm, Alonso & Garcia, and Armando Iannuzzi from Toronto member firm, KRP.
Angus Farr closed the professional programme with a session called 'Life´s a pitch – the six elements to be managed in a presentation pitch scenario', where he shared top tips for making a presentation and engaging your audience.
The final evening of the conference included drinks, dinner and music at a traditional French restaurant - Le Ligure - the perfect close to a busy two days of networking and learning.
Our thanks to delegates and non-delegates who came to Nice for this year's conference, and who made the conference such a success through their engagement and interest in each of the sessions. The close connections and natural interaction between members is what makes Russell Bedford's conferences so unique. A very special thanks to our French national network and for the onsite assistance from our member firm in Lyon, Pyramide Conseils, who supported us in delivering what was a fantastic International Tax & EMEA Conference.
Stephen Hamlet, the network's CEO, summarised the event by saying, "When a conference comes to an end, there are always two emotions; one of immense delight and satisfaction at how well the event was received, and the engagement, interaction, and energy witnessed amongst our members, and secondly a feeling of sadness that it is over. Several members came up to me on the final night saying they did not want it to end. You cannot receive better feedback than that!"