News
Russell Bedford International Tax and EMEA Conference 2022: Geneva
May 2022
---
The Russell Bedford International Tax and EMEA Conference 2022 took place at the luxurious Fairmont Grand Hotel, Geneva on 20-22 May located on the magnificent Lake Geneva, Switzerland.
After two years of online conferences, it was a pleasure to resume the International Tax & EMEA Conference as an in-person event, made extra special by the spectacular surroundings the city of Geneva has to offer.
Opening this year's conference, Russell Bedford's Chair, Bruce Saward, welcomed delegates to Geneva after a two-year hiatus, followed by a session led by CEO, Stephen Hamlet, on What's happening in Russell Bedford.
Locals Nabil-Jean Sab and Roland Burger, representatives from the host firm, Russell Bedford Fiduciaire Genève SA, welcomed delegates to their home city in the next session.
Niklas Schmidt, Head of Tax at Wolf Theiss, one of the leading law firms in Central, Eastern and Southeastern Europe, joined us to discuss Crypto Assets – What tax practitioners need to know. Niklas is one of Austria's leading international tax lawyers, specialising in international tax, private clients, foundations/trusts and crypto assets/blockchains.
Following a networking break, Thomas Tindemans, Chairman of Hill+Knowlton Strategies, an international public relations company based in Belgium, joined to discuss The Challenge Ahead: Europe in 2022.
Thomas is a Belgian national with over 30 years of experience in EU public affairs and communications and provided our group with a most informative and engaging outlook on the main challenges currently facing the continent.
Next, delegates heard from some of our new EMEA firms in Athens (Greece), Accra (Ghana), Tuscany (Italy), Marseille (France) and Brazzaville (Republic of Congo).
After an excellent morning programme, delegates broke for a networking lunch overlooking Lake Geneva.
The afternoon programme commenced with a very exciting session, as the conference welcomed former professional tennis player and a Senior Expert in the Football and Social Responsibility (FSR) Division of UEFA (Union of European Football Associations), Filippo Veglio.
Filippo is responsible for the development and implementation of the organisation's Football Sustainability Strategy 2030, which aims to initiate, inspire and accelerate collective action to respect human rights and the environment within European football.
As Russell Bedford seeks to create a better future through proactive leadership in contemporary and enduring issues such as DEI (Diversity, Equity & Inclusion), ESG (Environmental, Social & Governance) and CSR (Corporate Social Responsibility), it was pertinent that Filippo joined us to share the experience of UEFA and European football stakeholders as they seek to drive sustainable change in his session: CSR, ESG & DEI: Lessons from UEFA's football sustainability strategy.he final session of day one was led by Jeremy Mindell, director at Primondell, a tax and accounting firm covering a wide range of specialisms from tax investigations to HR issues related to restructuring and business transformation.
Jeremy's knowledge, as always, was impressive as he admirably delivered a round-up of current international tax issues (incl. BEPS 2.0, transfer pricing changes, tax changes in response to COVID, international coordination on enforcement, etc.)
Following the close of day one of the conference, delegates reconvened later in the evening for drinks, dinner and traditional music for a truly Swiss experience, including fondue and folk music, at Restaurant Edelweiss.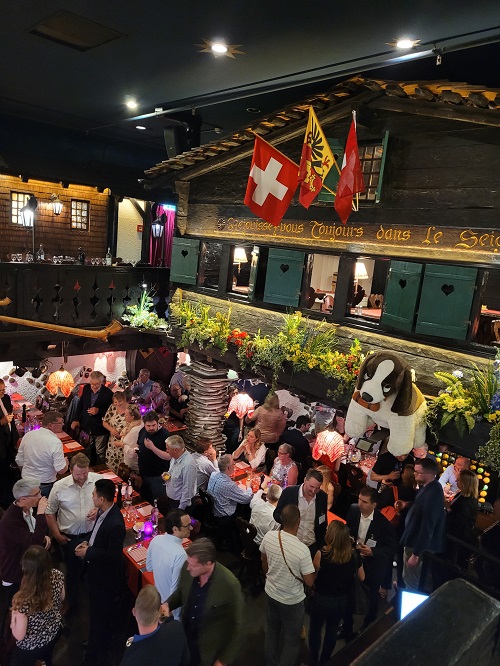 Day two of the conference was opened by Stephen Hamlet, reminding delegates of the network's strategic positioning, as revealed towards the end of last year, and was followed by Maribel Ortega, a leadership coach who specialises in helping women progress their career into leadership roles.
Sharing her own personal experience, Maribel joined to passionately discuss Navigating the Culture Map.
Up next were a series of workshops for delegates to choose from, including Auditing and accounting: an update on hot topics by David Norris, Head of Audit & Accounts and Compliance at Mercia Group, one of the UK's largest providers of training and support services to the accountancy profession.
Partners from London member firm, Lubbock Fine, Phil Blackburn and Graham Caddock led a workshop on Voluntary tax disclosure opportunities; and after a short networking break, Maribel Ortega returned to lead the excellent Building a Dream Team.
Some more members of the Lubbock Fine team, including David Portman and Robert Hoad, led another insightful session based on a case study: International mobility – bear traps for employees and employers.
After a networking lunch, the afternoon workshops resumed to include New international quality management standards: Are you ready? led once more by David Norris, while partners from Russell Bedford's Swiss member firms led a workshop on Switzerland: the tax system and planning opportunities.
Following another short networking break, the final workshops of the day resumed including How technology is changing the world of accounting by Sandeep Shrestha and Nadia Burgan (Thomson Reuters) and a roundtable discussion for French-speaking members to discuss opportunities for cooperation and mutual support.
After the close of the conference, delegates broke for the evening, reconvening later for drinks, dinner and entertainment at the fabulous Restaurant la Perle du Lac overlooking the breath-taking views of Lake Geneva.
CEO, Stephen Hamlet, added: "What an incredible conference! From start to finish this was an event that had it all. An excellent turnout of members from across the EMEA region and beyond. An incredible location, made all the better by our fantastic hosts and their wonderful hospitality. We had an extremely interesting and diverse programme, that not only highlighted some important tax updates and advances in the world of tax, but also shone a light on important topics such as Crypto, CSR and culture. A heartfelt thank you to our hosts and delegates who made this conference so very special."